Many business owners decide to start using QuickBooks Online to get better control of their expenses and gain insight into how their money is being spent. In order to reap those benefits, one of the first things you'll need to do is learn how to pay bills in QuickBooks Online.
By entering and paying all of your bills inside QuickBooks, you can schedule payments for right before their due dates. In that way, you'll avoid paying bills late (and the damage that can cause to your reputation with your vendors) while also keeping your cash on-hand as long as possible.
If you haven't started using QuickBooks Online to manage your bills, you're missing out on a major feature of this powerful accounting software. The good news is that it's easy to get started. Here's a step by step guide on how to pay bills in QuickBooks Online.
How To Enter Bills Into QuickBooks Online
First, you have to enter the bills you receive into Quickbooks. After all, you can't pay a bill that doesn't exist. Below we break down how to enter new bills into the software and how to edit bills that already exist inside your account.
Entering Your Bills
Follow these four easy steps to enter bills in QuickBooks Online. You can also watch the tutorial above which covers the full bill management process from A to Z.
1. Select "Add Bill" From Your Shortcuts Menu
When you first log in to your QuickBooks account, you should see a shortcuts menu right in the middle of your Dashboard screen. In the bottom row, you should see the "Add Bill" shortcut as shown below: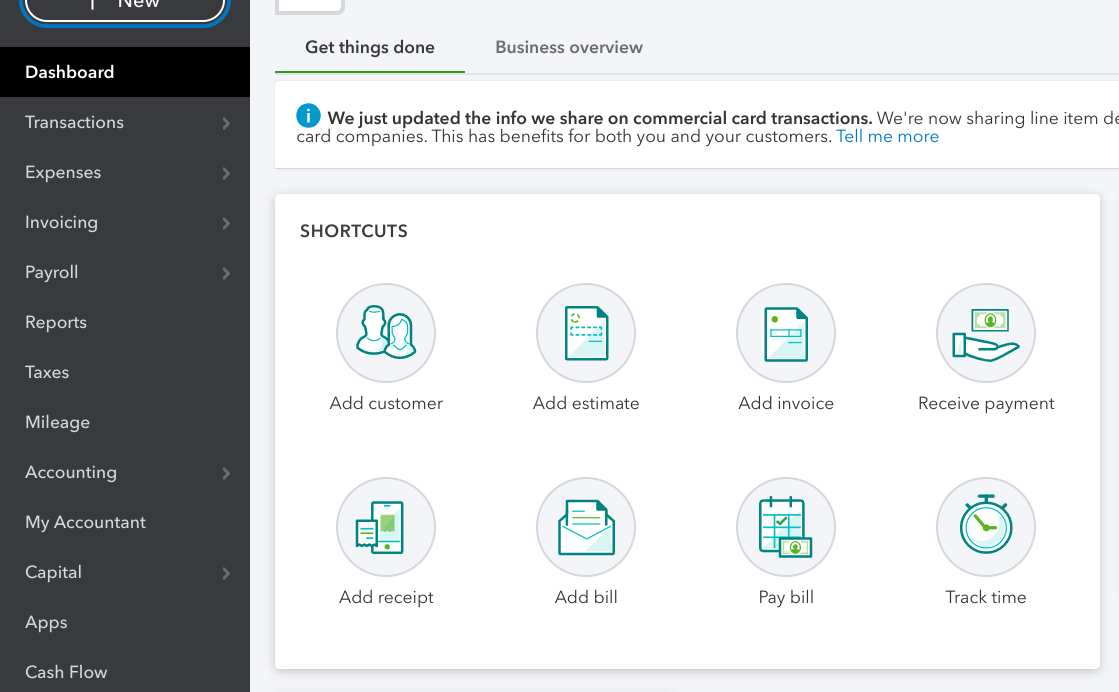 Clicking on that button will take you to the QuickBooks Online Bill Paying service. You can also get there by clicking the big "New" button at the top of your left-hand side menu and navigating to Vendor > Bill.
2. Choose the Appropriate Vendor
On the top left-hand side of the bill window, you'll see a drop-down menu where you can choose the vendor that your bill is for. If this is a vendor that you've never entered into QuickBooks before, can click the "Add New" button to enter their information.
3. Enter Your Bill Details
Next, you'll find several fields where you can add in the specifics of your bill. Options include:
Vendor address
Payment terms
Bill date
Due date
Bill number (if applicable)
In the bottom section of the bill window, you'll add the bill's expense category as indicated below.
4. Save Your Bill
Finally, you'll enter a description of the services rendered and the exact bill amount (you can also add a PDF attachment of your bill) before selecting "Save and Schedule Payment."
Congratulations, you just entered your first bill inside QuickBooks Online!
Editing Existing Bills
As long as a QuickBooks Online bill hasn't yet been paid, you can edit its information at any time. So there's no need to worry if you accidentally entered the wrong vendor, due date, or amount. Here's how to quickly modify any existing bill in QuickBooks online in 3 simple steps.
1. Navigate To The Vendors List
You can see all of your existing bills inside your Vendor's List. To get there, select Expenses and then Vendors from the left-hand navigation pane of your Dashboard.
2. Find The Bill You Want To Edit
Inside your Vendors List, you'll see all of your past and upcoming bills. You can see the balance of each unpaid bill on the far right, while paid bills display a balance of $0.00. Find the bill that you need to modify from the list.
3. Open the Bill And Make Your Edits
Once you've found the right bill,  clicking on it will open the same bill window that you used to create the bill originally.
Here you can easily make any necessary changes before clicking "Save and Schedule Payment."
How To Pay Bills in QuickBooks Online
Entering your bills won't do you much good if you don't also know how to pay bills in QuickBooks Online. Thankfully, it's again a fairly simple and straightforward process.
With QuickBooks Online, you can pay your vendors for free with direct deposit or paper check right from your bank account. You can also use a debit or credit card. Regardless of your payment preference, these are the steps you'll take to pay bills in QuickBooks Online.
1. Navigate to the "Pay Bills" Window.
There are two places that you'll find the "Pay Bills" link inside your Dashboard. The first spot is in the shortcuts menu that was referenced in the instructions on how to enter a bill.
The second way to begin paying a bill is to select the big "New" button at the top of the page. From there, you'll find "Pay Bills" under the "Vendors" tab.
2. Select Your Bill
Inside your list of bills, find the specific bill that you'd like to pay. Click the checkbox on the left-hand side and then select "Schedule payments online."
3. Choose Your Payment Method
Next, you'll need to select your payment type. Bank payments (including paper checks) and debit card payments are completely free. But there is a credit card processing fee of 2.9% plus $0.25 per transaction.
If you want to pay with a bank account that hasn't been connected yet, select "Add another bank account" and follow the steps.
Related: How to Accept Credit Card Payments: The Ultimate Guide
4. Decide Between ACH or Paper Checks For Bank Payments
If you choose to pay bills in QuickBooks Online directly from your bank account, you'll be shown an additional screen where you can choose between direct deposit or a paper check.
So, yes, you can still send a paper check (if that's something you or your vendor happens to prefer) even if you schedule payments online. Similar to bank bill pay services, QuickBooks takes care of everything — including printing and sending the check on your behalf.
Whether you choose ACH or paper check won't affect your cost. Both options are free. However, paper checks typically take 5-7 business days to arrive while bank transfers are faster with an estimated arrival time of 1-2 business days.
5. Choose Your Payment Date
Next, you'll be shown a calendar so that you can select the date that you'd like your payment to go out. Remember, this is when you want your payment to be sent, but it will arrive later. At the bottom of the scheduling calendar, you'll see an estimated arrival time for your bill.
6. Review And Confirm Your Scheduled Payment
Once you've selected your payment date, your work is almost done. Next, you'll have the opportunity to leave a memo with your bill if you'd like. Or you can skip this step and move on to the final "Review & Confirm" screen.
Give the details of your bill payment a final once-over to make sure everything looks good. If it does, then you can select "Confirm and Schedule Payment."
Congratulations, you've just scheduled your first bill payment inside QuickBooks Online!
7. Record Your Bank Payment
Your work isn't quite done yet. The last step in the process is to match the bank payment with your bill after the transaction is complete. To do that, you'll need to navigate to your "Bank Transactions."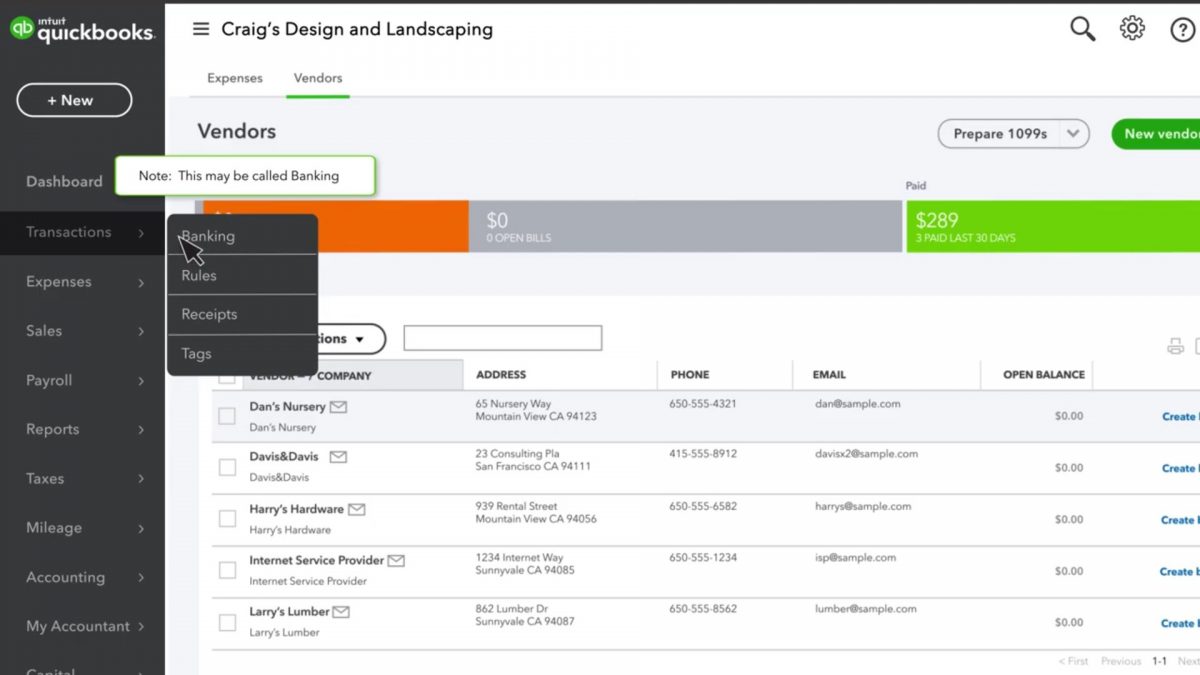 On this page, you'll see a list of all of the transactions that QuickBooks has downloaded from your bank. If one of your transactions is for the same amount as a recent bill, QuickBooks may recognize this and will indicate in a green book that it recognizes a potential matching record.
All you have to do is just select "Match" from the "Action" tab on the right.
And that's it! You've just completed all the steps involved in entering and paying bills in QuickBooks Online.
Related: Square vs. QuickBooks: Which Is Best For Your Small Business
How To Send A Paper Check Yourself
As explained above, QuickBooks Online can send paper checks on your behalf. However, if you prefer to pay with a paper check that you personally mail or hand-deliver, you can do that too. Here are the steps you'll take.
1. Navigate to "Pay Bills"
From your main dashboard, click "New." Under the "Vendors" tab, select the quick link for "Pay bills."
2. Enter Your Check Details
Next, you'll want to select your checking account and the date that your payment will be made.
For hand-written checks, you'll enter the appropriate check number inside the "Starting check no." field. If you want to print the check from inside QuickBooks Online, put a checkmark inside the "Print later" box.
3. Select The Bill You Want To Pay
After inputting your check details, you'll need to match this payment with an existing bill inside QuickBooks Online. If the bill hasn't been entered yet, you'll want to do that now (following the steps outlined earlier). But if it's already been added, simply select the bill by checking the box on the left.
4. Save And Print Your Check
Now that all your check detail have been added, you can click the "Schedule payments online" button. You'll have two options. If you want to print the check from QuickBooks, select "Save and print." But if you'll be sending a handwritten check instead, select "Save and close."
5. Record Your Bank Payment
This is the exact same process as was detailed above in step #7 of "How to Pay Bills in QuickBooks Online." As explained there, you'll navigate to "Bank Transactions" and then "Match" the check payment with the correct bill.
Related: The 7 Best Small Business Accounting Software Companies
How To Record Cash Payments In QuickBooks Online
If you want to pay bills in QuickBooks Online using cash, follow these three steps.
1. Set Up A Petty Cash Account
Begin by navigating to your "Chart of Accounts" inside "Settings."
Inside the "Chart of Accounts" window, select "New."  On the "Account Type" drop-down menu, you'll want to select choose "Bank."  The on the drop-down menu for "Detail Type" select "Cash on hand." Finally, enter "Petty Cash" in the the "Name" field.
You'll also need to select when you want to start tracking debits and credits from your Petty Cash account. If you're only wanting to keep a record of future transactions, you can select today's date.
2. Add Cash To Your Petty Cash Account
It's important that you keep accurate record whenever you add money to your Petty Cash account. To do this, select "New" from your account Dashboard and navigate to "Transfer" in the "Other" tab.
From the "Transfer" window, you'll begin by selecting the account that you withdrew the cash from (i.e. your business checking account). Next, you'll select "Petty Cash" as your "Transfer Funds To" account.
3. Pay Your Bills Using Petty Cash
Now you're ready to record Petty Cash payments for your bills. The process to do so is the same as described above for sending a paper check. The only difference is that in the "Payment Account" field you'll be selecting "Petty Cash" instead of your checking account.
Once all your bill payment details have been added, simply click "Schedule payments online" and click "Save and close." You're all set! Now you can head over to the "Bank Transactions" page to match your petty cash transaction with its corresponding bill.
Summary
Hopefully, you now feel well-equipped to begin paying your bills in QuickBooks Online. Doing so could not only save you time, but could also help you identify expenses that need to be reduced or eliminated. Learn why accounting is so important for small business owners.
If you're feeling overwhelmed by your bills any other financial aspects of your business, Cloud Friday can help. Our team of experts can handle your bookkeeping and provide the accounting reports you need.
Learn more about our complete accounting services.
Related: 12 Common Bookkeeping Mistakes and How to Fix Them