If you use a company credit card to buy supplies and inventory, it's important that these transactions are accounted for inside your QuickBooks Online account. If you're not sure how to enter card transactions on QuickBooks online, you may be surprised to learn that there are actually multiple ways to do this.
Linking your credit card account to QuickBooks Online or importing transactions in large batches can save you a lot of time. However, it is possible to manually enter credit card transactions on QuickBooks Online if necessary.  Below we provide step-by-step instructions for all three methods.
How To Link Credit Card Accounts On QuickBooks Online
By logging into your credit card account with your credentials, you can give QuickBooks permission to automatically download your recent credit card transactions. If you can connect your particular card account, this is without a doubt the most efficient way to manage your company's financial transactions.
You can watch the video below for a tutorial on how to connect a bank or credit card account to QuickBooks. Or continue reading for a step-by-step guide.
1. Navigate to the "Banking" Transactions menu.
Begin by selecting the "Banking" or "Transactions" menu from the navigation pane on the left. From there, you'll select "Banking." Even though you're technically looking to connect a credit card rather than a traditional bank account, the process for linking any type of financial institution is the same.
2. Select "Connect Account"
From the default tab inside the "Banking" menu, you'll find two options for connecting a bank or credit card account. The first option which you will choose is "Connect Account."
The other option, "Upload Transactions," should be ignored unless it turns out that you're unable to link your credit card account to QuickBooks during the next step.
3. Find Your Credit Card Issuer
If your credit card issuer is a major financial company, you may see them featured as one of QuickBooks most "popular" options. Otherwise, you can just search for your credit card company by name.
If your card company doesn't pop via search, it may be supported by QuickBooks as of yet. In that case, you'll want to skip down to the next section in this guide — How to Import Credit Card Transactions On QuickBooks Online.
Related: How to Accept Credit Card Payments: The Ultimate Guide
4. Enter Your Login Credentials
Once you've selected your credit card issuer, you'll need to input the username and password that you use when logging into your account. Then click "Connect."
5. Follow Your Bank's Verification Steps
Many financial institutions require their customers to take extra steps when logging in for security purposes. For example, your card company may send you a verification code via voice call, text, or email. Take whatever security steps your card issuer requires before once again selecting "Connect."
6. Select The Accounts You Want To Link
Once a connection has been established, QuickBooks will display every account that is tied to the username and password provided. You don't have to connect every account. For example, if you have personal credit cards or bank accounts under the same account as your business credit card, you may want to leave them deselected.
You'll also need to select the specific account (from your Chart of Accounts) that you'd like for the transactions to fall under. In most cases, you'll select "Credit Card" or something similar.
If you haven't created a "Credit Card" account yet, QuickBooks can create it for you during this step.
7. Choose The Date You Want Transactions Pulled From
Next, you'll need to choose how far back you want to QuickBooks to go when it downloads transactions from your credit card account.
The default option is the beginning of "This Year." If you want to go back even further, you can pull everything from the beginning of "Last Year." Or, if you prefer to pull over fewer transactions, you could choose "This Month," or  even just "Today."
Finally, you can go back to any specific date of your choosing by selecting "Custom." Once all the parameters are set to your satisfaction, click "Connect."
8. Categorize And Add Your Transactions
In just a few moments, QuickBooks should automatically import all your credit card transactions from the date range you requested. Now all that's left for you to do is to categorize each transaction so that they're added to the correct accounts.
After choosing the correct category, click "Add" and you're done! You've just successfully used the "account link" feature to enter credit card transactions on QuickBooks Online.
Related: The 7 Best Small Business Accounting Software Companies
How To Import Credit Card Transactions On QuickBooks Online
As mentioned previously, linking your account is the fastest way to enter credit card transactions on QuickBooks Online. However, that's not possible for all credit cards.
If connecting your account dynamically isn't an option for you, your next best option would be to upload a batch of transactions at once using an Excel, CSV, or other data file (perhaps once per day or week).
Below is a video and written walk-through of the seven steps you'll need to take to enter credit card transactions on QuickBooks Online by uploading a data file.
https://www.youtube.com/watch?v=hdu2FvYpV0g
1. Log In To Your Credit Card Account And Look For "Download Transactions"
Begin by logging in to the online portal of your credit card account. Once you've logged in, look for a "Download Transactions" or "Download Activity," option (or something similar).
If you're having trouble finding it, you may need to do a quick Google search for help or call your credit card customer service number.
3. Select Your Transactions Date Range
Most financial institutions will allow you to select your transactions range. If this is a new account, set the range for as far back as you want QuickBooks to keep track of.
But things will be different if you've already been uploading transaction files on an ongoing basis. In that case, you'll want to find the date of the last credit card transaction that you already have recorded inside QuickBooks. Then select the next day as your "From" date for this particular download.
4. Choose Your Download File Type
Next, you'll need to select how you'd like to save the data. If a QBO file is offered, that's definitely what you'll want to choose. But if that's not an option, QuickBooks says that it can also accept CSV files.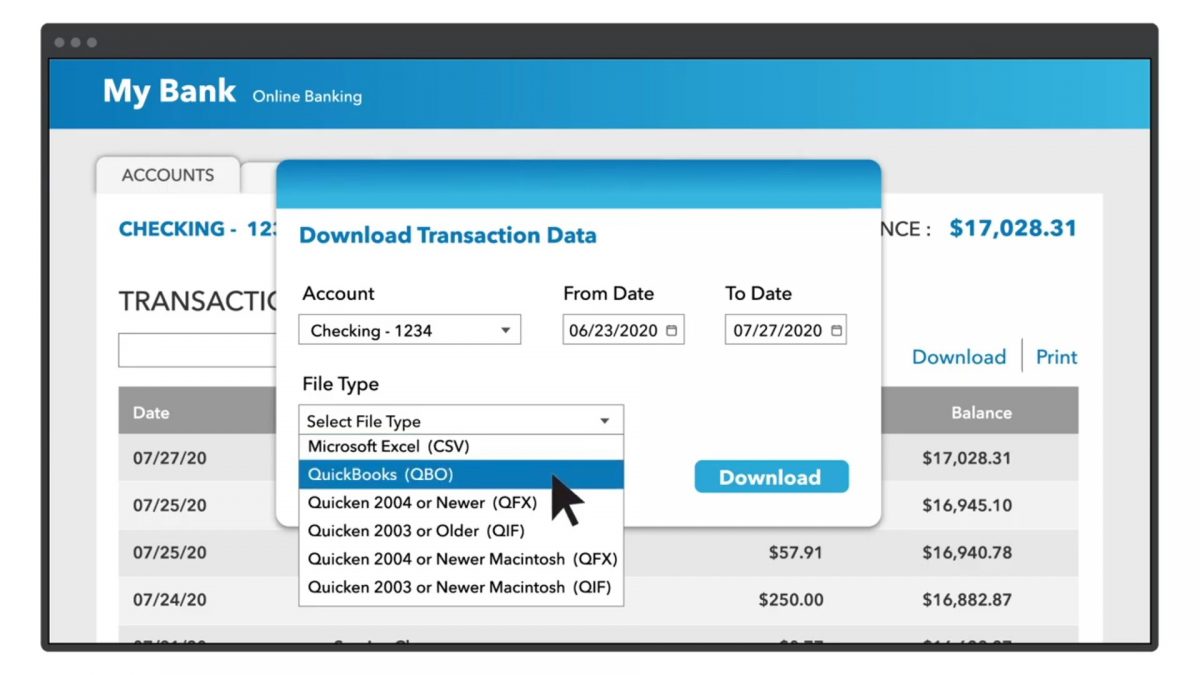 5. Upload Your Credit Card Transactions File
To upload your data file, navigate to the "Transactions" tab on the main menu, and once again select "Banking."
Next, select "Upload Transactions."
On the next screen, you'll have two options. You're looking for the option on the left, "Get your info from your bank." Inside that box, select "Browse" and then click on your data file after navigating to wherever it's saved on your computer.
6. Choose the QuickBooks Account Where You Want to Upload the File
After you've selected your file, you'll need to tell QuickBooks which account these transactions should be connected to. If you don't already have a "Credit Card" option inside your Chart of Accounts, you can add one now by selecting "Add New."
Once you've chosen or created your QuickBooks account, select "Next" and QuickBooks will begin manually importing your transactions.
7. Categorize And Add Your Transactions
Whether you link your credit card account or upload the transactions manually, the final step is the same. You'll need to select the appropriate category for your credit card expense and select "Add" (from the "Action" tab) to complete the process.
Related: 12 Common Bookkeeping Mistakes and How to Fix Them
How to Manually Enter Credit Card Transactions On QuickBooks Online
Manually entering each individual credit card transaction into QuickBooks Online is by far your most time-consuming option. For this reason, it really should only be used if neither of the first two methods are possible with your particular credit card issuer.
But if you do need to go this route, you'll begin by navigating to "Expense" under the "Vendors" tab.
Next, you'll select "Credit Card" as your "Payment Account" and 'Payment Method" before entering your transaction category and description.
Finally, you can attach your receipt (if available) before clicking "Save and close."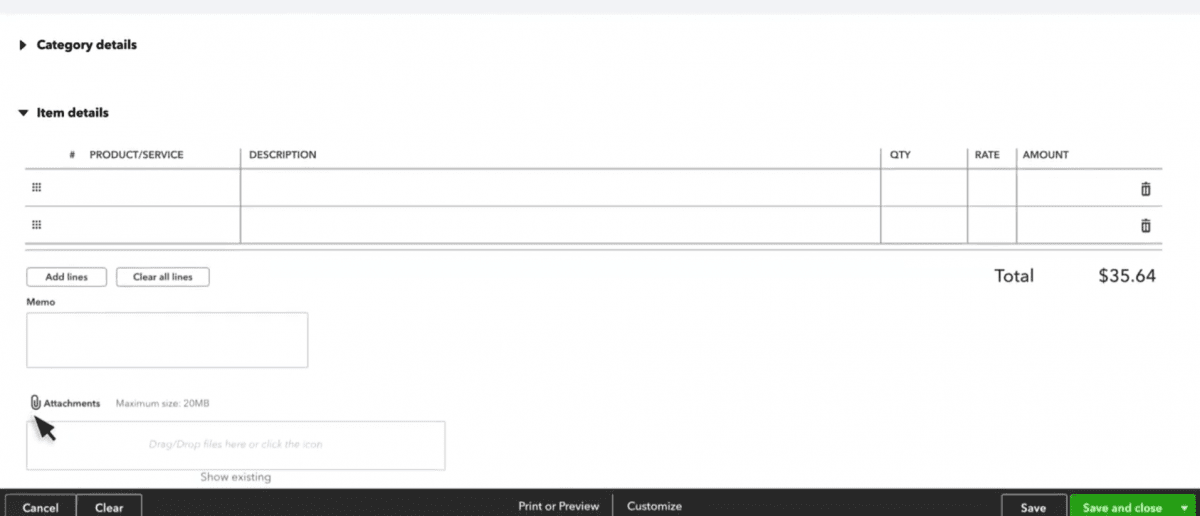 Summary
Now that you know how to enter credit card transactions on QuickBooks Online, it's time to get to work. To keep the work from piling up, you may want to set aside a few minutes each day to enter and categorize transactions.
Don't feel like you have the time to manage all of your credit card transactions inside QuickBooks Online? Cloud Friday can help. Our team can take the daily bookkeeping work off your plate so that you can spend more time growing your business. Learn more about our bookkeeping and accounting services.