If you recently started using QuickBooks Online, you may be a little overwhelmed to find so many bookkeeping and accounting features that are now at your fingertips. And there are probably plenty of advanced tools that you may not plan (or need) to use any time soon.
However, most of us will need to know how to create and send invoices in QuickBooks Online right from the start. In fact, for many sole proprietors or freelancers, that may be one of the only tasks you're hoping QuickBooks will be able to help you accomplish.
Thankfully, QuickBooks makes it very easy to send and collect payment on your invoices. Here's a step-by-step guide on how to create and send invoices in QuickBooks Online.
How To Create And Send Invoices In Quickbooks Online
The video below presents a live tutorial on how to build and send QuickBooks invoices. You can also continue reading for step-by-step instructions.
1. Open A New Invoice
There are three ways to open a new invoice in QuickBooks Online. The fastest way would probably be to go to the big "New" button at the top left-hand side of your account dashboard. "Invoice" should be the first option that you see.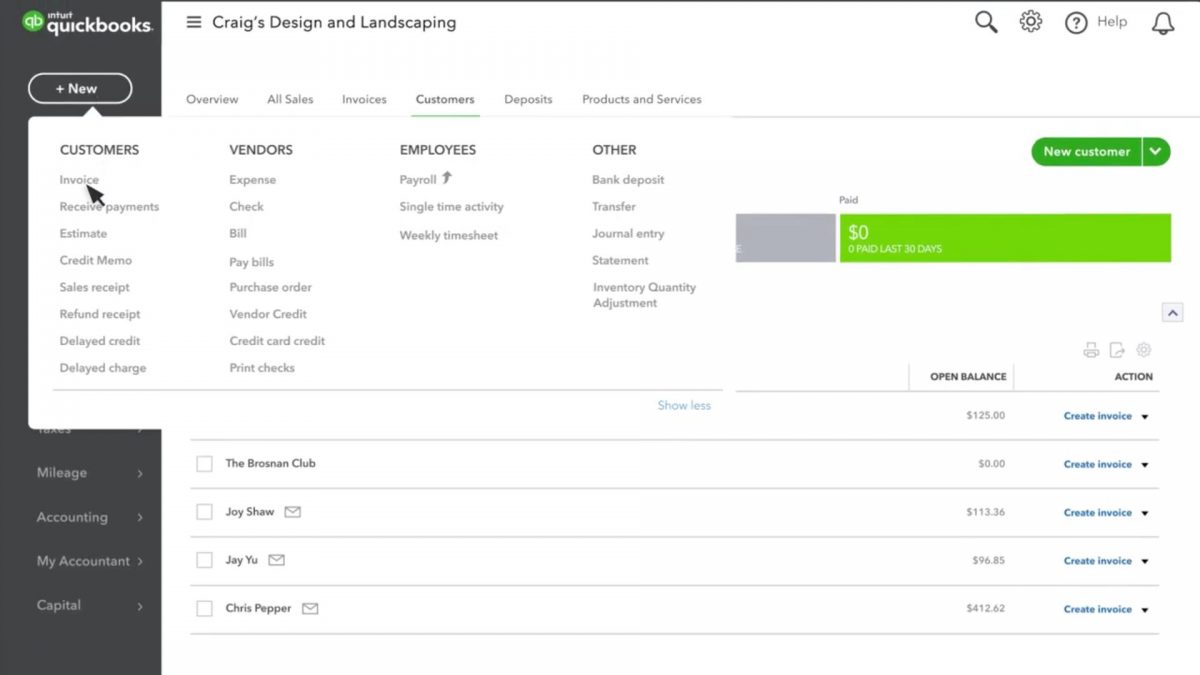 There are two more ways to create an invoice inside QuickBooks Online and both start with navigating to the "Invoices" tab from the left-hand menu. From there, you can visit your "Invoices" page which will have a big green "Create Invoice" button at the top.
Alternatively, you can visit your "Customers" page. Each customer will have a "Create invoice" option on the far right-hand side.
2. Select Your Customer's Name
Once you've opened a new invoice, the first thing you'll need to is to record the customer's name who will be receiving it. If you select a pre-existing customer, QuickBooks will automatically populate the billing address and email address fields.
Or if this is a new customer, you can add them to QuickBooks by selecting "Add New."
3. Confirm Your Customer's Email Address
Sometimes clients will request that invoices are sent to more than one email address. That's easy to do in QuickBooks Online. To add additional emails to an invoice, just put a comma between each email address. You can add CC or BCC invoice recipients as well.
4. Consider Enabling Online Payments
If you'd like, you can select one or more "Pay Now" options to your invoice. QuickBooks Payments currently allows businesses to enable credit card payments, ACH transfers, or both to give customers their choice.
Keep in mind that both online payment options come with fees, with credit card payment being the more expensive of the two. Here are the current fees:
ACH Transfers: 1% (Max $10)
Card Payments: 2.9% + 25¢
If you'd prefer to avoid fees altogether, you can disable online payment, and request that your customer pay via cash, check, or via a different online payment platform.
Related: How to Accept Credit Card Payments: The Ultimate Guide
5. Set Your Start And Due Dates
Next, you'll want to select your Start and Due Dates and set the terms for how long your client has to pay the invoice.
You may need to be careful with this step. In most cases, the "Start Date" of your invoice should be the date that it's actually sent. But, by default, QuickBooks use the date you originally created your invoice.
Why is that a problem. Because some people (like myself), like to build their invoices throughout the month, adding line items or billable hours as they happen. So, in my case, I may start an invoice at the end of the month, while waiting to send it till the very end. But that can create problems with invoice due dates as explained below.
For example, imagine that I started an invoice on November 3rd but didn't actually send it until November 28th. If I set "Net 15" terms on your invoice, it will look like my invoice is due the day of sending, rather than in 15 days.
For this reason, it's important that you remember to update your "Start date" to the date that you actually send your invoice so that the due date will be accurate.
6. Add Your Product Or Service Category And Description
The product/service area of the invoice is where you'll provide a general description of what was provided to the customer.
In many cases, each line item of your invoice may have the same product/service category. For example, as a freelance writer, I nearly always select "Freelance Writing" in this section.
The description box is where you provide a more specific explanation of the services rendered. For example, in my situation, this is where I would list each specific article topic. If you sell cleaning supplies, this is where you would list each item purchased by your customer.
7. Enter The Price Of Each Product or Service
For each line item of your invoice, you'll need to add both its quantity and rate. So if you sold 5 boxes of paper towels that cost $15 per box, you would put "5" in the Quantity box and "15" in the "Rate" box. In this case, QuickBooks would automatically update the total amount for this line item to $75.
If you're an hourly worker, you would put the number of hours you worked in the "Quantity" section and your hourly wage in the "Rate" section. You can also add subtotals throughout your invoice if you'd like to separate the invoice into separate product or service categories.
8. Compose An Invoice Or Statement Message
Near the bottom of the invoice are two message boxes that you may or not need to decide to use.  These are personal messages that will appear on the invoice itself or on the customer's statement.
For example, you could provide your bank account number and routing information (if you don't want to use QuickBooks Payments for bank transfers) in one of these message boxes. Or if you send customer statements, you can add a memo that will show up as a note on them.
9. Save Or Send Your Invoice
At this point, you've completed every necessary field on your QuickBooks invoice. If you're not ready to send your invoice yet, you can select "Save and new" (to begin a new invoice) or "Save and Close." Or if it's ready to go, you can click "Save and Share Link" or "Save and Send" to attach the invoice to an email.
QuickBooks will populate your email with a default message. However, the email subject line and body are both completely customizable. So if you'd like to personalize your invoice emails with customer-specific messages, you can easily do so.
Alternatively, you can print your invoice from QuickBooks if you prefer to hand-deliver or mail invoices to certain customers.
10. Monitor Your Invoice
Once an invoice has been sent, you can track whether it's been viewed or paid at any time. Simply navigate to Invoices > Invoices to see a full list of all your current and previous invoices. Each invoice will display one of the following statuses:
Not sent
Sent
Viewed
Deposited
Overdue
You can personally reach out to customers if they're late to pay an invoice. Or you can use QuickBooks to send a default follow-up email. However, you'll need to actively select "Send reminder" each time. Currently, QuickBooks doesn't offer automatic overdue email reminders.
How To Convert An Estimate To An Invoice In QuickBooks Online
To create an estimate inside QuickBooks Online, navigate once again to the "New" menu. Under the "Customers" tab, select "Estimate."

From there, you'll be brought to an estimate-builder page that you'll notice looks very similar to the invoice-builder.
Once your estimate has an "Accepted" or "Pending" status, you can convert it to an invoice with one click. Simply select "Start Invoice" to automatically create and send invoices in QuickBooks Online from accepted estimates.
How To Edit A Sent Invoice In QuickBooks Online
So you sent an invoice yesterday, but you just realized that you accidentally left out one or more products or services. Or perhaps you entered the employee's billing address incorrectly or entered the incorrect price on one of your items. What can you do?
Thankfully, you don't need to start over from scratch by sending a new invoice. Instead, you can simply edit the invoice you already created. To do so, begin by navigating to the "Invoices" page from your account dashboard. Then find the specific invoice that you need to edit and click the drop-down menu on the far right.
Then select "View/Edit" and make any necessary changes. After your changes have been made, you can send a new email to your customer notifying them of the changes. Either way, from the customer's viewpoint, your modifications will automatically appear as soon as you save your changes.
Related: The Best Small Business Accounting Software Companies
How To Create Custom Invoice Templates In QuickBooks Online
Want to create and send invoices in QuickBooks Online that are completely unique to your business? Perhaps you'd like to include your business logo or add in a little color?
You can do all that and more with the QuickBooks template-maker. To get started, click on the "Customize" link at the bottom of any invoice. You'll get three template options: Standard, New Style, or Edit Current. Select "New Style."
Once you're inside the "New Style" template editor, there are several things you can do to add your personal stamp to your invoices. In addition to adding a logo or colors, you can also pick a customer font. Plus you can print out your design to see how it looks on paper.
Summary
There are few activities more core to the success of your business then creating and sending invoices. For many of us, it's the only way we actually get paid for the work that we do.
Thankfully, by following the steps above, anyone can create and send invoices in QuickBooks Online with ease. But even with QuickBooks' efficiencies, sending and managing invoices can be a chore — especially if you have a lot of clients.
If you're struggling to stay on top of your invoicing, Cloud Friday can help. Our team of professionals can help you send invoices, pay bills, and many more financial tasks. Learn more about our complete accounting services.
Related: What's The Difference Between A Bookkeeper And An Accountant