The best email signatures are basically digital business cards. They give the recipient a quick snapshot of who they are talking to.
Just like business cards, you'll want to include your basic contact info in a simple and uncomplicated way, while still being visually interesting. There are several services that allow you to create custom email signatures
Here are some tips to keep in mind as you design your email signature.
1. Limit The Information
Information overload is a mistake when it comes to email signatures. The point of an email signature is to give people a snapshot view of what they need to know about who you are and what you do–not about the whole business.
For that reason, it's important to share the most important things recipients need to know in terms of contacting you. You can share:
Name
Title
Business name
Contact phone
Email address
And that should do it! You can give your email signature some pizazz with icons and photos as well. We'll share more about that in a bit. However, as far as information goes, it's important to keep it simple.
Related Article: 8 Simple Strategies For Achieving Inbox Zero
2. Include an Image
Email signatures are much more attractive when an image is included. You can use your company's logo for an image. Doing so is a great way to help people remember your brand.
With this signature image, the Foxela logo will be ingrained in your member every time you talk with or hear about Noah Bush.
Using your personal picture helps email recipients to really connect with you as well. There's something about putting a face with the name, or with the voice you speak to, that really helps clients and vendors make a personal connection with you.
With this signature stamp, you can envision Elissa's sweet smile every time you talk with her. It helps you feel as if you really know her, instead of Elissa being just one more person vying for your business.
3. Add Social Media Icons
Adding your social media buttons to your email signature can be a smart move too–especially if you're active on social media in terms of your business marketing.
When you add your social media icons, you're providing a great way for your email contacts to connect with you in a combination business/social manner. The more connected a client feels, the more loyalty they can have to your business.
4. Have a Focal Point
Another great idea for designing your email signature is to have a focal point. Your focal point can be your photo, your company logo, or something that draws an email recipient's eye to an important fact about what you do.
Here's an example:
Now, I don't know about you, but when I look at this email signature, all I'm thinking is "I WANT what he's got to offer."
Maybe it's just because it's cake, but I've got a crystal clear knowledge of what this guy does. And I'm quite sure I'll be contacting him for an order.
You can potentially get the same effect when using focal points with other types of businesses too.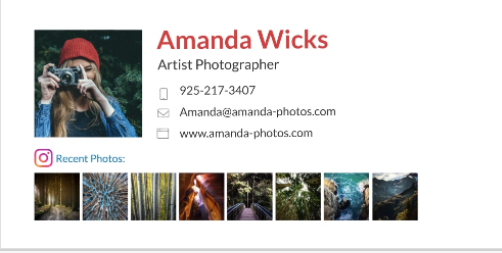 This email signature gives a clear picture of what Amanda does and highlights her skills in her field of work as well. And again, the focal point (the photos) tells you what she does from the first glance. That means you can make a quick decision as to whether or not you need her services. That's the message you want to send to recipients with your email signature.
5. Go Easy On Font Styles
As you're designing your email signature, be sure to minimize font changes. This includes different font sizes, font colors, and font types.
Having some font changes is important. After all, you want to keep things interesting. Just choose the right types of font to achieve "interesting" without being overwhelming. Here's an example:
Jessica's font changes were simple; she added some bold, some color, but mostly kept things the same. The actual font she used is the same throughout but she mixed it up with color and size. Her subtle changes were enough to make the signature draw the eye and stand out.
And that's the goal. When you implement too many fonts, your email signature can become overwhelming to process. It can be distracting to read and make focus difficult for the reader.
Also, since we are talking about font, use sans-serif fonts. (Serifs are the little extra tags on the letters.) The simpler font is easier to read, especially when the text is small — like in an email signature.
6. Stick With A Simple Color Palette
The same "simpler is better" action plan is important when it comes to your color palette as well. The best email signatures do have color. However, too much color has the same effect as too many different fonts: It can overwhelm and distract the reader.
Choose two or three colors based on the color's meaning and your company logo. For instance, if your company logo is red, you can choose red and another complimentary color to include in your email signature.
Here's an example of good use of color in an email signature.
The color blue represents, among other things, trust, confidence, and wisdom. This business owner did a great job of incorporating blues into her email signature without overwhelming the reader.
7. Include A Call-to-Action Button
A call-to-action button on your email signature is a great way to give recipients a chance to engage right away with your business. Your call-to-action could be something like:
A link to your latest blog post
The chance to sign up for your newsletter
A link to a website page that contains a description of your latest product or service
A link to your business's latest sale, special, or deal
Here's an example.
And you can change your call-to-action button anytime you need to in order to align it with your company's current offerings.
Related: 9 Marketing Tips For Small Businesses That Really Work
8. Design Your Email Signature For Mobile Use
Some email signatures don't translate well for mobile users. The email signature generator you use to design your email signature should be able to give you tips for using their system to do that, but here are some tips to keep in mind.
Space out links and icons far enough to make clicking on mobile devices efficient
Use vertical templates as opposed to horizontal
Include your cell phone number
Keep social media icons limited to three or less
Now that we've talked about what to include to be sure you're designing the best email signatures, let's talk about some popular email signature generators.
3 Email Signature Generators You Can Use
In order to design the best email signatures, it can be helpful to use email signature generators. Here are three email signature generators that can help you make creating an email signature fast and easy.
HubSpot
HubSpot offers free sales tools for all types of businesses. They've got a CRM program, business plan templates, and more. They've also got an email signature generator.
The cost for HubSpot's email signature generator and other programs? Free. Choose from a variety of easy-to-use templates. And you can add photos, social media icons, and more.
Related Article: The Importance Of A Good Customer Relationship Management Process
WiseStamp
WiseStamp has been in the email signature generation business since 2014. They help business owners from all lines of work create exciting email signatures.
WiseStamp has two plan options for email signature creation: Their free option and their "Awesome" option. With the free version, you get access to two basic signature templates. Note that the free version includes a provision that the WiseStamp logo will be included in your email signature.
For $5.80 a month you can upgrade to the "Awesome" version. That means you can create multiple email signatures that do not include a WiseStamp logo.
This upgraded version also includes access to premium templates. The premium templates allow you to include animation and other effects on your email signature.
Email Signature Rescue
Email Signature Rescue launched in 2013 with the goal of creating email signatures that worked properly among all email software programs.
This company has three plans to choose from:
$60 per year for three users
$120 per year for ten users
$240 per year for twenty users
Adding additional users costs $12 per year. All Email Signature Rescue plans include all templates and all features.
Conclusion
Having the right type of email signature is a great way to communicate to clients and potential clients. It's also a great way to get some cheap or free advertising.
And with today's technology, creating a great email signature is quick and it's easy — even if you're not a tech expert.
When you design your email signature to give recipients that "quick glance" into you and your business, you've created a powerful tool to advertise and grow your company. Consider creating email signatures for all of your team members.